AUSTRALIA's first hydrogen fuel-cell-electric coach has hit Australian roads and is on display, following an official joint Hyzon-BLK Auto launch function in Brisbane, Queensland, recently.
Hyzon partnered with leading bus and coach chassis builder BLK Auto to produce the 50-seat coach – made from Australian steel – which has a range of up to 430 miles (700km) and a 350kW-producing motor, Hyzon confirms.
The hydrogen-powered coach is an example of Hyzon increasing investment in Australia, it says. Recognising that Australia's vast distances and sparse infrastructure are unique challenges in a 'decarbonising world', the company is growing its presence to serve the market, it explains.
"Zero-emission, hydrogen fuel-cell electric vehicles provide the operational capabilities of diesel vehicles – long range, significant power – with the environmental benefits of a battery electric vehicle," said Craig Knight, Hyzon CEO.
"We applaud the various governments in Australia for recognising this and facilitating the adoption of hydrogen as evidenced by various funding packages and incentive programs."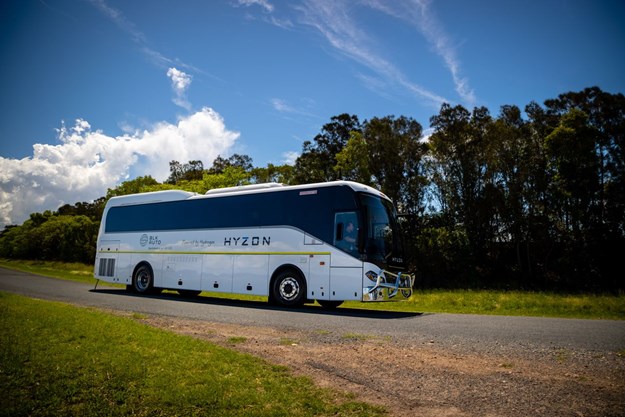 (Below, L-R): BLK Auto's Jason Pecotic, David Jiear and Anthony Taylor.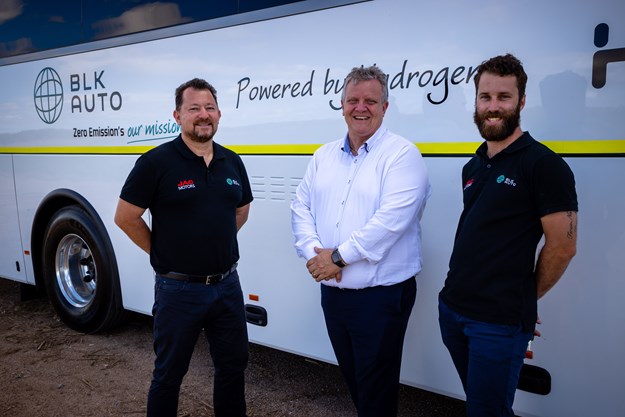 LEARNING MORE
Interest from customers is high in Australia, the company states, and Hyzon has already announced binding and non-binding agreements for refuse collection vehicles and ultra-heavy-duty prime movers in addition to the coaches, it explains.
"The coach has attracted significant interest since it arrived at our facility, with local bus operators, representatives from various government departments, mining companies and tourism operators coming to see the coach in action and learn more about how these zero-emission, hydrogen fuel cell-powered coaches can be adopted in their respective industries," said BLK Auto managing director Jason Pecotic.
While initial Hyzon vehicles will be imported from factories internationally, Hyzon expects to localise production of key platforms in Australia from 2022, it says.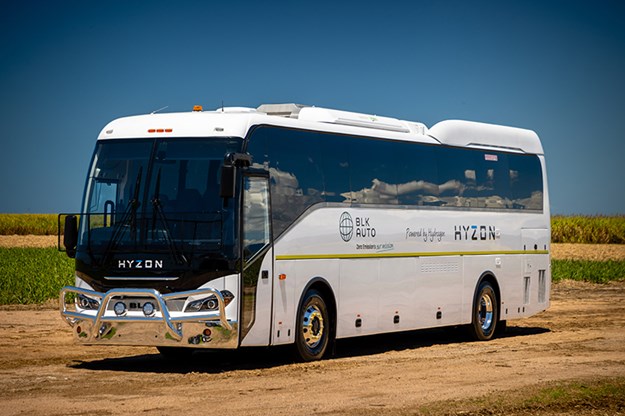 ABOUT HYZON
Headquartered in Rochester, N.Y., with U.S. operations in the Chicago and Detroit areas, and international operations in the Netherlands, Singapore, Australia, Germany, and China, Hyzon is a leader in fuel-cell electric mobility with an exclusive focus on the commercial vehicle market, and a near-term focus on back-to-base (captive fleet) operations, it says.
Utilising its proven and proprietary hydrogen fuel-cell technology, Hyzon aims to supply zero-emission heavy-duty trucks and buses to customers in North America, Europe and around the world to mitigate emissions from diesel transportation, which is one of the single largest sources of carbon emissions globally, it explains.
The company is contributing to the escalating adoption of fuel-cell electric vehicles through its demonstrated technology advantage, leading fuel-cell performance and history of rapid innovation, Hyzon states.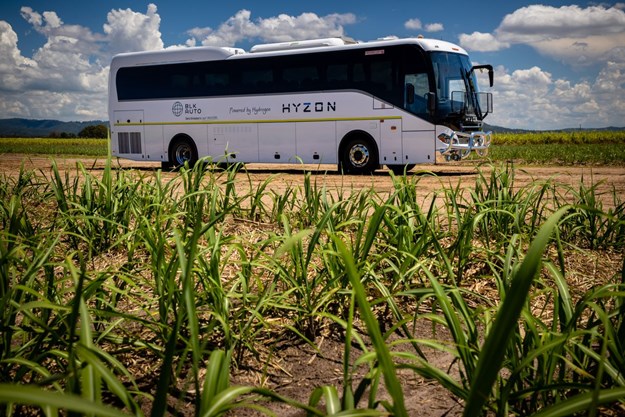 ABOUT BLK AUTO
BLK Auto is a leading automotive designer, importer, distributor and manufacturer of bus, coach, truck and vans in Australia and New Zealand, it says. The company also partners with some of the world's leading OEMs in building its bodies to their chassis, it adds.
Renowned for its quality diesel buses, BLK Auto continues to grow and support its existing customer base whilst embracing the strategy around zero-emissions transport, it says. This has facilitated the pivoting to provide the market not only with its range of diesel (DSL) buses and coaches, but with the addition of both BEV (Battery Electric Vehicle) as well as HFC (Hydrogen Fuel Cell) transportation.
BLK Auto also introduced the range of JAC BEV commercial trucks to further service its customers. JAC Motors is majority owned by Volkswagen Group, which provides confidence in BLK Auto's relationship moving forward, it confirms.
BLK Auto has one of the largest product ranges in the Australian/New Zealand market with vehicles ranging from 12- to in excess of 77-seat. BLK is a boutique provider, "…well primed to service the growing needs for DSL, BEV and HFC commercial vehicles as demand continues to grow whilst partnering with bus operators, schools, local councils, state governments, logistics and rental operators, it states.